About the Torres Strait Dugong and Turtle Fisheries
The Torres Strait Dugong and Turtle fisheries are traditional subsistence fisheries limited to Traditional Inhabitants of the Torres Strait. Hunting for dugong and turtle is an important part of the traditional way of life and livelihood of Torres Strait Islanders and is also a major source of protein in their diet. Dugong and turtle may only be taken in the course of traditional fishing and used for traditional purposes.Turtles are taken in all areas of the Torres Strait while, dugong are caught mainly in the western region.
Fishery Map - Dugong Fishery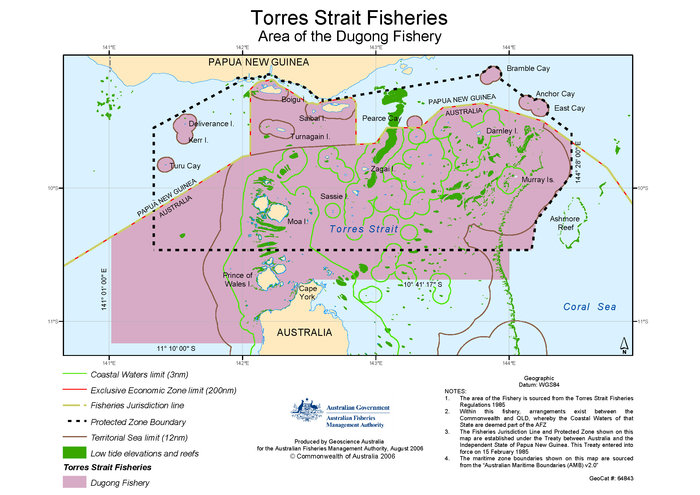 Fishery Map - Turtle Fishery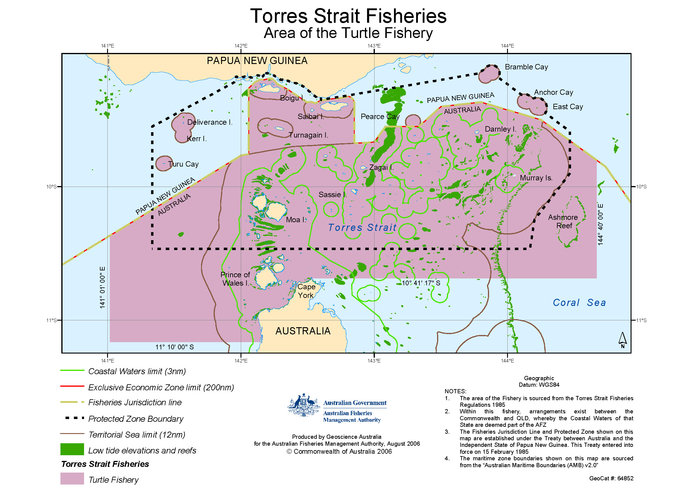 Objectives adopted for the Torres Strait Turtle and Dugong fisheries are:
to promote the conservation of turtle and dugong stocks; and
to restrict the taking of dugongs and turtles to Traditional Inhabitants fishing for traditional purposes.
The legislated management arrangements for the Torres Strait Dugong and Turtle fisheries are outlined in Fisheries Management Notices No. 65 and 66 and are summarised below. Community-based Dugong and Turtle Management Plans, developed by individual Torres Strait Islander communities, are also being implemented on a voluntary basis throughout the Torres Strait with the assistance of the Torres Strait Regional Authority. Each community-based plan includes a range of culturally-based management arrangements that have been agreed to by each respective community. A Torres Strait Ranger Program is also being rolled our as a means of implementing these plans. For more information visit the TSRA website at www.tsra.gov.au.
Regulations currently implemented in the Torres Strait Dugong and Turtle fisheries include:
Dugongs and turtles may only be taken by Traditional Inhabitants;
Dugongs may only be taken using the traditional spear (wap);
Dugong hunting is banned in a large area of western Torres Strait which has been set aside as a dugong sanctuary (see map); and
Dugongs and turtles cannot be taken or carried in a commercially licensed fishing boat greater than 6m in length (boats under 6m with a TIB licence are permitted to take and carry turtle and dugong).
Dugong
The population of dugongs in Torres Strait is estimated from aerial surveys. Aerial surveys have been conducted in 1987, 1991, 1996, 2001, 2006 and are planned for 2011. The most recent population estimate is 14,747 ± 2292 individuals. No current estimate exists for the traditional harvest of dugong.
Turtle
There are no population estimates for turtle stocks in the Torres Strait however the monitoring of key turtle nesting sites in Queensland has flagged concerns with respect to the Green turtle (Chelonia mydas) and Hawksbill turtle (Eretmochelys imbricate) stocks. As a result, there is a growing awareness of the need to manage the traditional take of Green turtles and the harvest of Hawksbill turtle eggs to ensure the long term viability of these populations. No current estimate exists for the traditional harvest of turtles. Other turtle species are not generally taken for food however the eggs of the hawksbill, flatback and green turtles are regularly harvested by Traditional Inhabitants. The level of annual harvest of eggs is unknown.
The Strategic Assessment Report of the Torres Strait Turtle and Dugong Fisheries was submitted to the Department of Sustainability, Environment, Water, Population and Communities (SEWPAC) in 2007 after consideration by the Torres Strait Fisheries Management Advisory Committee, the AFMA Environment Committee and the PZJA. SEWPAC has made several recommendations in consultation with Torres Strait communities and relevant Government agencies. This report is being finalised by SEWPAC before it is provided to the PZJA.
Page last updated: 27/01/2023